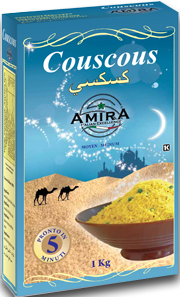 Cous Cous
Traditional food from all over North Africa, may be called the traditional dish of the Berbers.
Consisting of grains of semolina steamed, has spread rapidly throughout the world, also for its ability to be easily coupled to any condiment.
You can follow tradition and then prepare it with meat or fish, or indulge themselves and invent new recipes with vegetables or with tuna and tomatoes.
Nutritional information
Average values for 100g
| Values Energy | Protein | Carbohydrate | Fat |
| --- | --- | --- | --- |
| Kcal 347 | 12,10 g | 69,30 g | 2 g |